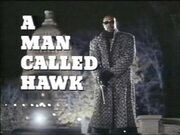 Spinoffs are not always created for the best creative reasons. Spenser: For Hire was cancelled largely, according to Robert B. Parker, because a new network executive came on board and the executive stood to personally benefit financially from creating a new series rather than continue a successful older one. Someone at the network thought, however, that a new series starring Hawk would be a good way to capitalize on the great job actor Avery Brooks had done embodying the character.
A Man Called Hawk ran for only 13 episodes in 1989. The series relocated Hawk to Washington, D.C., where he shifted focus slightly from "scary enforcer/hitman for hire" to "scary good guy".
Disclaimer: I haven't seen the show. RBP thought the series was a mistake, telling an interviewer in 2000 that he wouldn't consider telling a story from Hawk's perspective:
"I can't get inside Hawk. I can see Hawk through Spenser's eyes, but I wouldn't attempt to see Hawk through Hawk's eyes. There was a brief attempt made to do that on television. in the abysmal "A Man Called Hawk." I didn't do it. Not my fault. They didn't know what to do with it."
Most critics agree that the series didn't work. It's been called one of the worst TV spinoffs. However, some have praised the show, and Avery Brooks' performance in particular. A few have argued that prime time wasn't ready for a strong black male lead in a gritty show. Almost everyone agrees that Hawk, and Brooks, deserved better. Thrilling Detective has a good overview of the show and more details.